12 hours in the dungeon

3rd July-Night
Public Viewing: 5:00pm-9:00pm
4th July-Morning
Public Viewing: 4:00am - 6:00am
Elmina Castle, Central Region, Ghana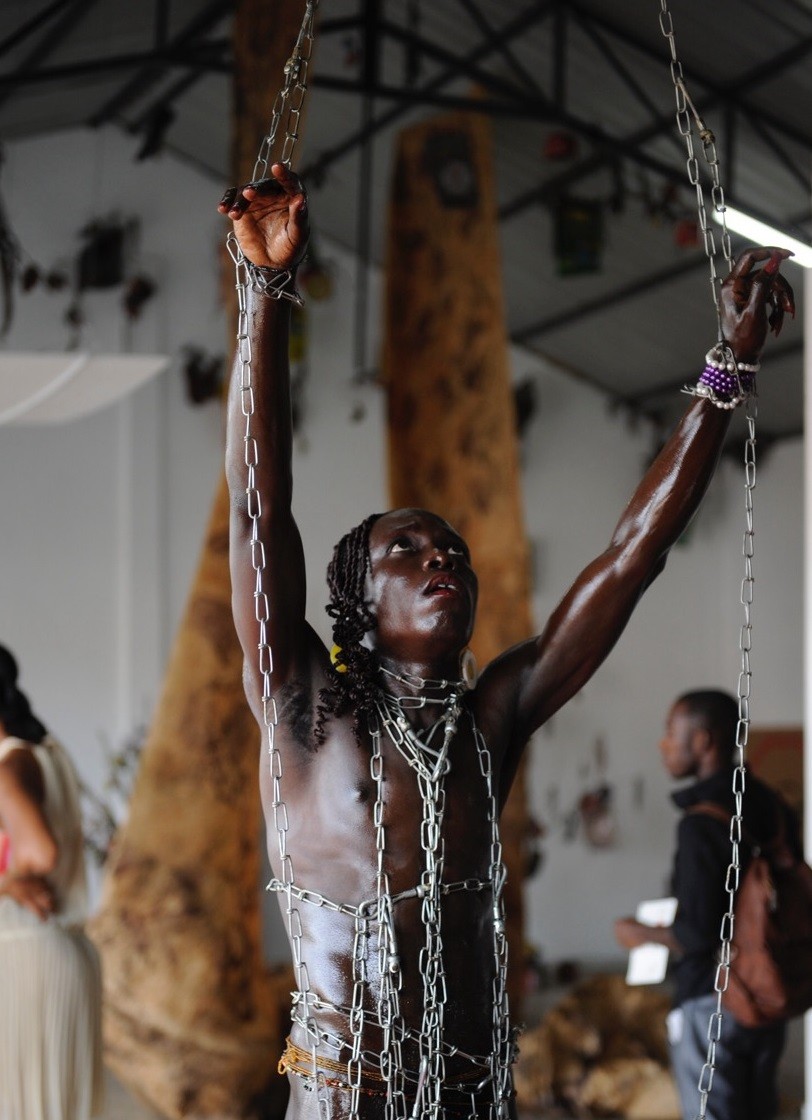 "We are captives... conquered in the mind by these miraged chains of institutional struggles. Humanity has fallen apart and our neighbours are perceived objects of manipulations. Our reasoning and morals can only be governed by architectural doctrines that demolished the powers of our mind". crazinisT artisT, 2014.
crazinisT artisT (Va-Bene Elikem Fiatsi) is a multimedia performance artist whose works investigate and question our quest for socio-cultural supremacy over marginalized people, political injustice and objectification of the human body.
He uses his body as a thought provoking tool and material that confront and exploit the stereotypical aesthetics of marginalized citizens within our 'so-called' civilized society.
In 'The Return of the Slaves' exhibition, crazinisT employs about 60 voluntary participants, both local and international,  in a durational performance art of 12 hours in a slave dungeon overnight.
This active engagement investigates the ostensible 'Dungeons without Wall' as a social process in our contemporary time. The performance evokes the unpleasant objectification of humanity as an institutional or private patronage and consumption of the body in relation to time, displacement and redefinition of cultural identity.
However, this enactment creates a dialogue to contemporary human slavery that explores the emergence of political violence, hate cultures, intolerance and prevailing crimes against humanity within and outside Africa.
The title, 'The Return of the Slaves' is a meditative reflection of the history of global ancestry which explores the present state of human objectification under the various forms of crimes against humanity and suppression in our perceived post-slavery societies and beyond.
The Atlantic slaves can never return because they have travel beyond time and space. However, the history of the bitterest experience of our ancestors should redefine our present existence in a global economic state. The 'return' is our conscience, our spirituality, our sense of 'being' and a mental disentangle from the constructive rigidity of the mind. The returnees must be freed from all forms of mental cages that promote stigmatizations and humiliation of minorities as a quest global supremacy.
Slavery is no longer a history of captives in literal chains and dungeons even though there are still many forms of human trafficking, but rather it is the focus on human borders and captives of cultural- identity and mental enslavement.
Registered Volunteers (Participants)
Abene Nsoh Abraham (GH), Adekunle Omofemi Oluwole (NG), Aderemi Adegbite (NG), Agbeko David Comrade Sedi (GH), Agbeko Mortty (Bex) (GH), Agbo Ray (GH), Agyare Asante Kwame (GH), Akpan Nseabasi (NG), Akuamoah Derrick (GH), Akuma Larry (GH) Alayande Ayanwale (NG), Alevi Emma (GH), Amafu Felicia (GH), Amonoo Francis (GH) Anim Sakyi Francis (GH), Animashaun Aminat (GH), Annor Prince Akogo (GH), Appiah Ofosu Gad (GH), Arowolo Wasiu (NG), Arthur Ouma Odhiambo (KN), Asante-Chuck Aaron Kofi (GH), Asare Maxwell (GH), Asmah Gideon (GH), Awontie Amissah Daniel (GH), Ayi-Bonte Theodora N. O (GH), Bayode Tobi (NG), Benneth Antwi-Bosiako (GH), Blebo Michael Jackson (GH), Bonsu Osei Mensah (GH), Bowman Arnold Forever (GH), Cudjoe Priscilla Keziah (GH), Darpoh Alex (GH), Dromo Nii Joshua (GH), Edmund Johnson (GH), Femke Van Gent (UK), Fiatsi Va-Bene Elikem (GH), Gadikor Makafui (GH), Gbatshu Bingi Cedrick (DRC), Gblorkpor Joshua Mawuli (GH), Hasford Ato Kwamina (GH), Hobrecker, Mars (USA), Kamara Kadie Beatrice (GH), Kpormegbey M.C Anthonia (GH), Kumi Isaac Kweku (GH), Mensah Stephen Bampoe (GH), Nana Acheampong Dennis (GH), Nkrumah-Abraham, Noble (GH), Nkrumah Eric Cole (GH), Novieku Peggy Angela Ackah (GH), Nyator Godfred (GH), Omijori Tola T. (NG), Onsoh Edward (GH), Opoku Evans (GH), Otsiman Joseph (GH), Perez Dziwornu (GH), Quagraine Ekow Sam Faisal (GH), Quaicoe Ridout (GH), Quist-Haynes Kofi Emmanuel (GH), Sey Ama Dela Nancy (GH), Sintim Eugene Gyabaah (GH), Smith Abosi Stephen (GH), Sossavi Mawuena Gifty (GH), Toy Himes (USA), Yogendra Isaac Yaw Owusu Ahimi (GH), Zuh Anthony (GH)
Host Artist and Artistic Director
crazinisT artisT(Va-Bene Elikem Fiatsi)
Collaborative Institutions
Department of Painting and Sculpture, KNUST
Elmina Castle, Ghana Museums and Monuments Board (GMMB)
Supporters
blaxTARLINES, KNUST
Department of Painting and Sculpture, KNUST
Sponsors and donors
Ghana Museums and Monuments Board, GMMB
Elmina Castle
Cashew Trade Centre Ltd (funding)
Chikis Photography (services)
Dew Pictures (services)
Deryk Bempah Photography (service)
Niels Staats, Natascia Silverio (Individual donors)
Exhibition Location
Elmina Castle, Central Region, Ghana
For any inquiry, please contact:
returnoftheslaves@crazinistartist.com or call: +233240529019 / +233266375467 / +233242625794