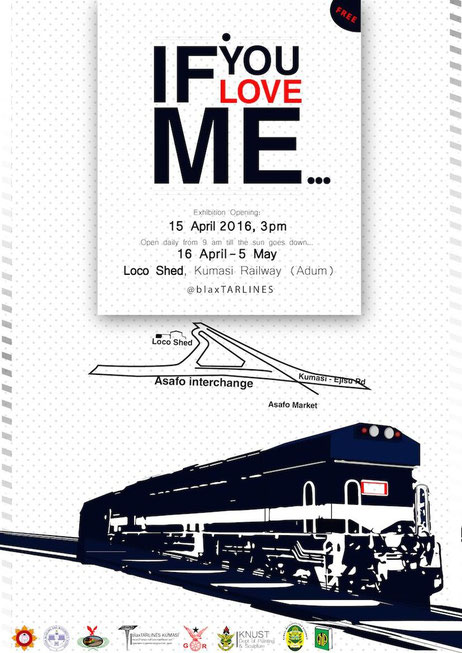 if you love me…
(The First KNUST MFA Curating show)
Loco Shed, Kumasi Railway, Kumasi, Ghana
3:00pm, Friday, 15 Apr 2016 - 05 May 2016
This exhibition is a collaborative effort of railway workers, occupants, engineers, artists, and students of KNUST.
The idea is to take on the space of the Kumasi Loco Shed as a living organism, a structure with a vital life of its own. The independently staged exhibition presents work born out of freedom of thought and practice, steered by attitudes of subtle resistance, activated by suggestions of renewal. The project aims to penetrate the site like a bacteriophage on a host cell, quietly attaching to the cell's DNA and reproducing, until the space has been regenerated.
With Kumasi as its nucleus, the project flows out to other locations along the tracks, from Takoradi to Accra, mapping a trajectory of the railway system. Presenting work by 30 artists and numerous collaborators, if you love me… meditates not only on human love, but that of plants, winds, germs, machines; not only on romantic love, but also toxic, consuming, possibly fatal passion. The pharmakon, both poison and cure, can be the Agent Smith that replicates itself onto subsumed subjects, or the kenosis that empties out the disease. Dangerous, seductive, formless, it floats in free play, disappears into itself, and ever eludes grasp or possession.
The exhibition follows two major shows by KNUST's Department of Painting and Sculpture last year — one at a repurposed car showroom in Kumasi (Silence between the Lines), another at the National Museum of Science and Technology in Accra (the Gown must go to Town), as well as the launch of blaxTARLINES KUMASI, the Department's project space for contemporary art. if you love me… resonates with strategies of "ironic overidentification" as proposed by KNUST art teacher kąrî'kạchä seid'ou — inserting oneself within the site of critique, in order to transform that subject. In this interdisciplinary and intergenerational project, a host of familiar faces and other new ones join together in a labour of love that transcends institutional, intellectual, and categorical lines, toward a more Consciencious future.
Participating Artists:
Accra Train Station (Nii Noi Nortey, Nii Otoo Annan, J. C. Abbey); Timothy Affram; Akwasi Bediako Afrane; Rex Akinruntan; Bernard Akoi-Jackson; Dorothy Amenuke; Francis Anim Sakyi; Lois Selasie Arde-Acquah; Lolo Atanley; Lawrence Baganiah; Geoffrey Akpene Biekro (Captain's Kitchen); Edwin Bodjawah; Yaw Brobbey Kyei; Eugene Edzorho; Va-Bene Elikem Fiatsi (crazinisT artisT); Kelvin Haizel; Ella Kankam; Adjo Kisser; Eric Okwei Nii Noye; Caterina Niklaus; Elvis Nsiah; Legon Pr3k3s3 (School of Performing Arts, Legon); Emmanuel Opoku Manu; Yaw Owusu; Deryk Owusu Bempah; Afia Prempeh; Stephen Smart Sippah; Kwaku Tabiri
Co-Curators: Robin Riskin, Selom Kudjie, Patrick Nii Okanta Ankrah
Advisors: kąrî'kạchä seid'ou, Kwaku Boafo Kissiedu, George Ampratwum
Support: Edwin Bodjawah, Ibrahim Mahama, Caterina Niklaus, Stephen Smart Sippah Takoradi
Coordinators: Eugene Edzorho, Rex Akinruntan
Partner Institutions: blaxTARLINES KUMASI Department of Painting and Sculpture, KNUST Ghana Railway Company Ltd. Ghana Railway Workers Union
Supporting Institutions: Ghana Museums and Monuments Board, Kumasi Metropolitan Assembly, Ghana National Fire Service, Western Regional Library, DDP Outdoor Ltd.