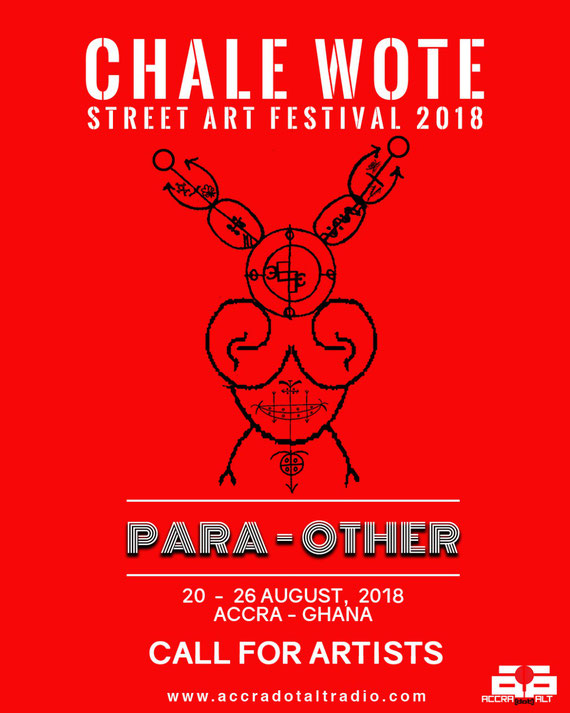 The CHALE WOTE Street Art Festival is an alternative platform that brings art, music, design, dance and performance out into the streets. The community-based festival takes place in James Town - one of Accra's most historic communities and targets exchanges between Ghana-based and international artists creating and appreciating art together.
Over the last eight years, CHALE WOTE has transformed the city of Accra into the most active cultural hub in West Africa. The festival has inspired possibilities in public space design through community supported cultural production
.
Para-Other represents our evolution beyond the dialectic of belonging and non-belonging. It is a rejection of citizenship that has no place for the advancement of radical imagination, new perspectives of the self and human agency. Para-Other is a transatlantic shortwave that transcends language and geography, but is also represented in relationship to unique locals.  It is a philosophy born out of historically determined necessity to flourish beyond a world of alienation and crisis we currently experience as reality. Para-Other requires  new knowledge fractals, codes, symbols, and sounds that transmit our core creative intent where imperial languages fail us. This order is an embracing of a black labyrinth and establishment of an aesthetic that captures our cessation of flight and transit into a non-contested existence.
INFORMATION FOR APPLICANTS
The Call for Artists is extended to visual and installation artists, interventionists, musicians, makers, photographers,performance artists, filmmakers, thespians, poets, architects, fashion designers, graphic designers, scholars and more. We are also accepting proposals for knowledge sharing sessions, panels and film screenings for The LABS @ CHALE WOTE (August 23 + 24). Participating artists must be available the week of the festival, August 20 - 26 2018, to meet one another, share and exchange (in several planned activities) as well as to work on production needs for the festival. Please note that we will accept existing and new works that are in dialogue with this year's theme. We encourage applications particularly in digital art, comics, video art, graffiti art, and interventions.
International Artists: This is an independent, community-based festival and our support for participation is limited. Therefore, international artists are encouraged to seek private and public sources to fund their participation (travel, lodging, food, transportation and production costs).
Ghana-based Artists: This is an independent, community-based festival and our support for Ghana-based artists is limited. We are only able to provide a production stipend to a selected number of artists who will present works at the festival. All other artists are encouraged to seek external means of support for the production of the works at CHALE WOTE 2018.
SUBMISSION GUIDELINES 
For the LABS @ CHALE WOTE (August 23 + 24), applicants should submit: CVs, 1-2 page proposal of project and one (1) sample of work per person. Filmmakers and Video artists must submit completed short or feature length films/videos for review. Applicants interested in participating on August 23 + 24 should submit an artist resume (bio, artist statement, and CV), 1-2 page proposal of project, and five (5) samples of work. Images must be in jpg or png form. Films or videos should be submitted via link or WeTransfer. Audio files should be formatted and sent as MP3. All applications should be submitted in a zip file with the applicant's name and subject line: CHALE WOTE 2018 Application to accra.alt@gmail.com.
Note that applications that do not adhere to the above criteria will be considered ineligible. Artists shortlisted to participate are reminded to submit works they own. Plagiarized works will not be accepted .
Deadline: May 5, 2018 Final selections will be communicated to all applicants within the month of May
SOURCE : ACCRA [dot] ALT