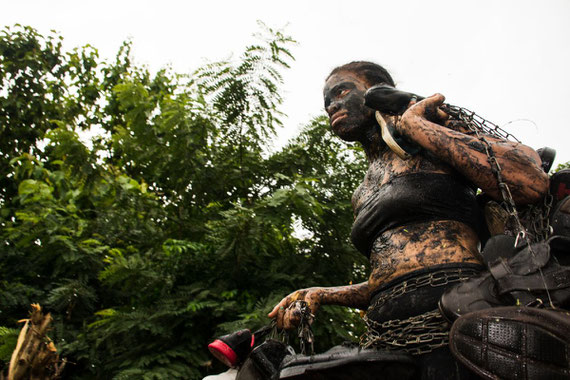 3:00PM 25TH MAY 2019
Open House Show
FREE ENTRY

crazinisT artisT studiO, Aprade-Oduom, Kumasi

Participating artists in Residence May/June
Rukia Kurwa (Arusha, Tanzania)
Romina Achatz (Vienna, Austria)
Solomon Baah Aboagye (Kumasi, Ghana)
Yohanna Marie (Bahia, Brazil)
Tina Melo (Bahia, Brazil)

PLUS works of pIAR Alumni
pIAR invites you to an open house exhibition as part of the May Artist Residency showcasing performances, videos, films, installations, digital art and working processes by the out going artists.
The exhibition title, noW! or NeveR! suggests the need to break our silence borrowing from the personal urgency of crazinisT artisT who uses performance as a potent force to reexamine dynamic experiences of colonialism, identity politics, racial stereotypes, gender prejudice, and postcolonial narratives of our 'being' in multi-generational societies and beyond.

In similar spirit of such urgency, the artists in residency explore and investigate the future of humanity, freedom, social justice, equality, identity, the body and many more through their works.
From January till May, crazinisT artisT studiO has hosted 16 national and international artists whose works and processes are featuring in this exhibition.  
The artists in residence have been supported by:
Goethe Yaounde, Cameroon
Alliance Francaise Arusha, Tanzania
Alliance Francaise Kumasi, Ghana
Secretaria de Cultura do Estado da Bahia, Brazil
Indiegogo Donors
Please share our flyer with friends and families and on all social networks