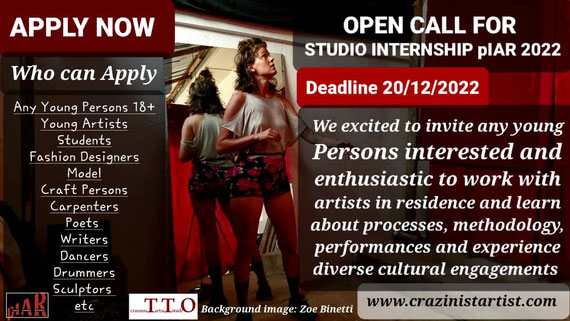 Open call for INTERNS
We are excited to announce an open call for INTERNS for pIAR 2022 who would like to work with the artists in residence.
■Our internship programme invites young artists and non artists, students, art enthusiasts, writers, curators, photographers, videographers, designers, Costumiers, fashion designers etc to apply for internships. 
■Selected applicants will work with the local and international artists in residence and the pIAR Team between January and August.  
■Applicants should select their preferred months for the internship and must be available for the entire duration selected (at least 3 weeks)
■There is no stipend for interns but there will be a daily meal provided at the residency for both artists and interns
■INTERNS coming from outside Kumasi shall be given accommodation at crazinisT artisT studiO (only 2 interns can be accommodated at a time). 
■Kumasi residents should consider commuting from home during their internship except for those who may be very far away from Oduom/Aprade.
■There will be an allowance for public transport for those commuting from home.
How to Apply 
Please click the LINK Below